Wushu
The term wushu is Chinese for 'martial arts'. Wushu, a traditional Chinese sports, is the skill of shadowboxing and using weapons. (Modern Chinese Dictionary) It was developed in China after 1949. Wushu with broad mass foundation is a precious cultural heritage gradually accumulated and enriched by Chinese in a long-term social practice.
In contemporary times, wushu has become an international sport through the International Wushu Federation (IWUF), which holds the World Wushu Championships every two years; the first World Championships were held in 1991 in Beijing and won by Yuan Wen Qing.
Chinese wushu plays an important role in both Chinese traditional culture and Chinese national sport. It has been a way for Chinese to work out and defend themselves for thousands of years. Wushu is considered as the quintessence of Chinese culture. Competitive wushu is composed of two disciplines: taolu (套路; forms) and sanda (散打; sparring). The forms comprise basic movements such as stances, kicks, punches, balances, jumps, sweeps and throws. Sanda (sometimes called sanshou or Lei tai) is a modern fighting method and sport influenced by traditional Chinese boxing. Sanda appears much like Kickboxing or Muay Thai, but includes many more grappling techniques. Chinese wushu has far-reaching influences on Chinese mass culture.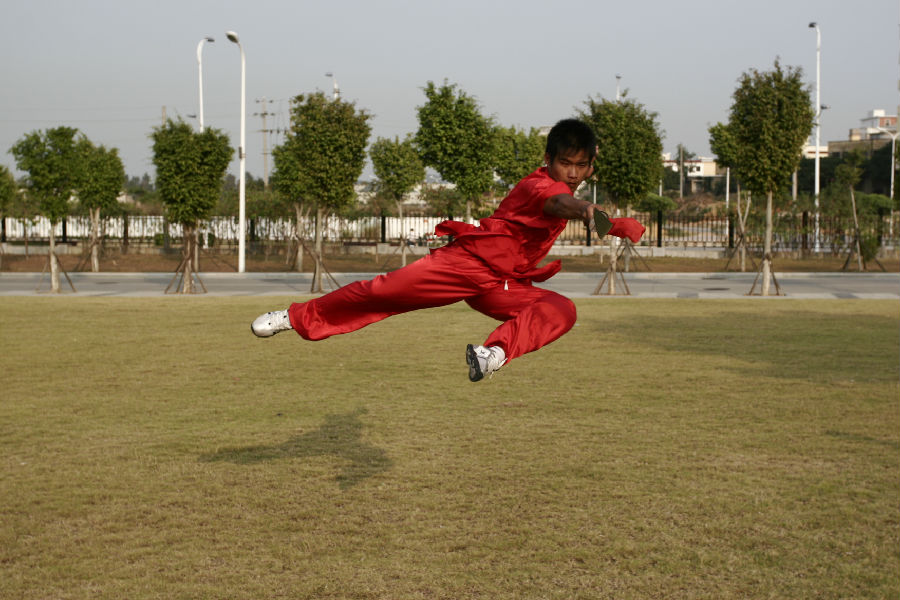 Tan Kah Kee college Wushu Club
Wushu Club in Tan Kah Kee college aims to foster students' interests in Chinese wushu and to give students an elementary insight into wushu through teaching basic taolu (forms) and the awareness of attacks and defense.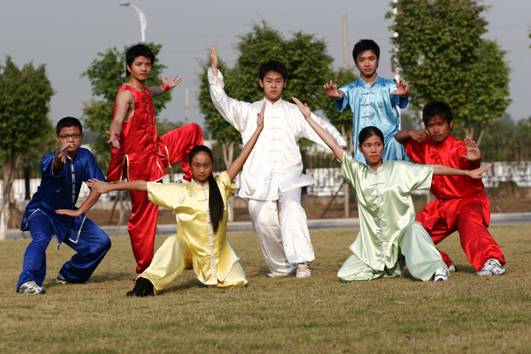 Wushu Super Star (Teacher)
Li Xueping, major in Social Sports, graduated from Sports Science Department of Fujian Normal University. As national First-grade Sportsman, national Second Grade Referee and First-grade Coach, he has been practicing Wushu since he was little and mainly studies Wushu taolu (forms) from Ziran Men Wushu master― Ke Yingjun. He has participated in many provincial and national competitions and has won more than ten medals. Furthermore, he has refereed matches for many times and was invited to train the British Wushu lovers in 2005.
He won 6 golden medals, 3 silver medals and 3 bronze medals with his team's total score coming second in the Wushu competition of Fujian University Sports Meeting in 2006.
He won 10 golden medals, 3 silver medals and 3 bronze medals with his team's total score coming first in the Wushu competition of Fujian Province Sports Meeting in 2011.